Texas Burlesque Festival is back featuring 2 nights of the best, brightest, glitziest titans of titillation and tease from across Texas, North America and the world!  Each night, an Audience Choice winner will be selected from that nights performers. Full line ups will be posted by April 1st.
Due to close proximity of seating, unvaccinated or immuno-compromised guests will be strongly encouraged to wear masks. The venue will be disinfecting all surfaces and hand sanitizer will be available.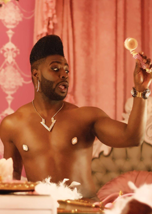 The current reigning Mr. Exotic World/King Of Burlesque and awarded "Most Dazzling" at The Burlesque Hall of Fame Tournament of Tease 2022, P. No Noire is one-third of the production team Bawdy Suit; along with Faggedy Randy (SEA/CHI) and Samson Night (NYC). P. No has been featured in Jeezy's Juke Joint (Chicago/various cities; 2017-2022), Chicago's Burning City Festival (2018),"The Jinkx and Dela Holiday Special" (Available on Hulu and various streaming platforms; 2020), was crowned Grand Master Funk of Seattle's What The Funk Fest (2021), White Elephant Burlesque's Entertainer of the Year (2021), and is #34 on the 21st Century Burlesque Magazine's Top 50 Most Influential Figures of 2021.
P. No Noire – Best served room temperature because he has no chill!
Ginger Snaps, featured performer
Ginger Snaps, The Tastiest Tease in Texas, is an award-winning international burlesque performer, aerialist, and producer from Austin, TX. Voted Austin's "Best Burlesque Performer" 2016-2022  by the Austin Chronicle Reader's Poll, she is renowned for her unique burlesque and aerial performance creations. Ginger has been seen on stages and screens across the globe including on America's Got Talent, Das Supertalent in Germany, performing at the illustrious Burlesque Hall of Fame Weekender in Las Vegas twice, headlining the Brasilia Burlesque Festival, and numerous viral social media videos and articles.
She is the Performance Manager for Sky Candy aerial arts, the founder of Legislate THIS – a series of burlesque fundraiser shows for Planned Parenthood, as well as the founder of the Aerials for Plus-Sized Bodies program and accompanying series of professional development workshops that she teaches to studios and instructors around the globe. In addition Ginger recently started working with Dell Medical School as a part of their weight bias curriculum in the Health Equity Program. When not instigating for glitter and social justice Ginger can be found on various social media platforms at @gingersnapsburlesque!
"Austin's Best Burlesque Performer" 2016 – 2022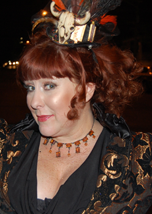 Big Mama Red found her place In Burlesque starting with Kitty Kitty Bang Bang in Austin more than 20 years ago. Since then she has performed on stages from NYC to San Francisco and has headlined the Colorado, Minneapolis and Texas Burlesque Festivals. She has worked with the greats from Angie Pontani and World Famous Bob to Foxy Tann, Lola Van Ella and Midnight Martini. Her style is raucous, bawdy and focuses on audience engagement. A former cast member with Esther's Follies, Mama is all camp and a little bourbon! This is her third time hosting TBF and her first since moving back to Austin.